Dental Assistant Jobs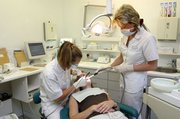 Dental assistant jobs are one of the most diverse of all the positions in a dental setting. While challenging and rewarding, a career as a dental assistant demands versatility and a willingness to assume responsibility for many different tasks. The work environment is often pleasant one that is people focused. With this type of personal interaction comes a satisfaction of helping others to provide a valuable health service.
Dental assistant jobs offer flexible work schedules and excellent career opportunities for individuals seeking a career change or reentry into the workforce. As a member of the dental health care team, the dental assistant takes on a significant amount of responsibility.
Dental assistants perform a variety of patient care, office, and laboratory duties. They often work chair side with dentists and help make patients feel as comfortable as possible, while preparing them for dental treatment. They hand instruments and materials to dentists and help keep patient's mouth areas dry and clear, using suction or other devices. Many also sterilize and disinfect instruments and equipment and prepare trays of instruments for dental procedures. A dental assistant's job may also involve teaching patients appropriate oral hygiene strategies or provide them with post-op instructions following surgery or other dental procedures.
Some dental assistants prepare materials for impressions and restorations and process digital radiographs. Some may also remove sutures, apply topical anesthetics to gums or cavity preventive materials to teeth, and place rubber dams on the teeth in preparation of procedures.
Dental assistant jobs provide direct patient care in all dental specialties, including orthodontics, pediatric dentistry, periodontics and oral surgery. Depending upon their assigned duties, a dental assistant can develop study casts from impressions, clean and polish removable appliances, and make temporary crowns. In lieu of a clinic manager, a dental assistant job may encompass serving as an infection control officer, developing infection control protocol, communicate with patients, other health professionals, dental suppliers, business contacts and insurers and perform a variety of other office management tasks. In some cases, a dental assistant job may be involve clerical tasks such as scheduling and confirming appointments, greeting patients, processing billings and accepting fee payments.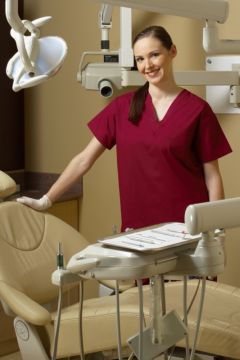 The dental assistant's work area is usually near the dental chair. Here they can easily arrange instruments, materials, and medication to hand to the dentist as he works on the patient. Their job requires that they wear personal protective clothing and equipment to protect themselves and patients from infectious diseases. Dental assistants must follow safety procedures to minimize all risks associated with treatment, including the use of x-ray machines. Because a dental assistant must be a second pair of hands for a dentist, they must be reliable, work well with others, and have good manual dexterity. About half of dental assistant jobs consisted between 35 and 40 hours of work per week, which included Saturdays and/or evenings.
A dental assistant's job environment can vary from a single, group or specialty practice to public health dental settings (schools, clinics, hospitals), and State and local public health departments. Jobs with insurance companies, teaching others to become dental assistants in vocational, technical and community colleges, and employment as a dental product sales representatives are also possible job opportunities with well paying salaries.
Dental Assistants
A dental assistant job can be obtained without a college level education in some areas of the country, and some dental assistant careers actually begin through on-the-job-training in a dental office or high school work study program.
Most dental assistants learn their skills on the job, although an increasing number are trained in dental assisting programs. The best way to obtain a dental assistant job is to apply to an accredited program with the American Association of Dental Schools Application Service (AADSAS). AADSAS is a centralized application service that simplifies the application process, allowing applicants to complete one standardized application form that is sent to each school requested by the applicant.
An accredited education ensures that learning is based on the latest procedures and techniques in dentistry. Dental assistant programs include classroom, laboratory, and preclinical instruction in dental assisting skills and related theory. Also, students are provided with practical experience in dental schools, clinics, or dental offices. Most dental assistant programs are a year or less in length and lead to certificate or diploma upon completion. Two year dental assistant programs, mostly offered in community and junior colleges, lead to an associate degree in dental assisting. All programs require a high school diploma or its equivalent, and some require science or computer-related courses for admission. A number of private vocational schools offer dental assisting courses which range from four to six months, but the Commission on Dental Accreditation does not accredit these programs.
Some states require dental assistants to be certified. Becoming a Certified Dental Assistant is an acknowledgment of an assistant's qualifications and professional competence. To get certification, dental assistants must pass the Certified Dental Assistant (CDA) exam from the Dental Assisting National Board (DANB). In many States, dental assistants are eligible to take the CDA examination if they have completed an accredited dental assisting program or have 2 years of full time, or 4 years of part time experience as a dental assistant. In addition, applicants must have current certification in cardiopulmonary resuscitation. For annual recertification, individuals must earn continuing education credits. While many States regulate the duties that dental assistants are allowed to perform once they receive licensure or registration, few States allow dental assistants to perform any function delegated to them by the dentist.
1 Bureau of Labor Statistics, U.S. Department of Labor, Occupational Outlook Handbook, 2012-13 Edition, Dental Assistants, http://www.bls.gov/ooh/healthcare/dental-assistants.htm (8/2/12).