Dental Jobs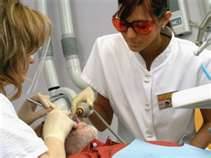 There are large number of dental jobs, including administrators and support staff who assist dentists, dental hygienists and dental assistants with administering dental care to patients on a daily basis.
A dental career offers not only flexibility in hours and relatively good salaries1, but it provides opportunities for those people looking to enter into the field, exposure to experiences, as well as the opportunity for licensed professionals to make a difference, by supplying their services to various parts of the world. This includes volunteering for local events during the annual National Dental Month, held in several locations throughout the US or in remote villages located in Indonesia, Africa, the Phillipines and other areas of the world where there is dire need for dental treatment for the poor.
If you are a person who works well with people and enjoy helping others, consider gaining a lifelong sense of satisfaction as a dentist, hygienist, dental assistant or dental lab technician. The return on investing in these areas of dentistry are priceless.
Below are the latest dental jobs available throughout the US. There are positions in dentistry and maybe other healthcare areas for which you may have an interest. Whether you are looking for a dental hygienist job in a dental office or administrative position in a dental clinic of a major hospital, checkout out whats currently available.
1According to the ADA, the average salary for a dentist was just over $192,000 per year for general dentists and $305,8201 for specialists in private practice. The US Department of Labor reported that for 2010, the median salary pay for dental hygienists was over $68,000 a year, while the median hourly earnings for dental assistants and dental lab technicians were $16.09 and $16.90, respectively.