Dental Hygenist Careers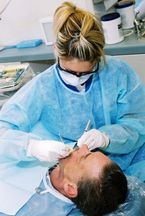 A dental hygenist is responsible for teaching patients oral hygiene strategies and counseling them on nutrition and its impact on oral health. Dental hygenists examine patients' teeth and gums, recording the presence of diseases or abnormalities. In some States, they administer anesthetics, place and carve temporary fillings or periodontal dressings, remove sutures and smooth and polish metal restorations.
Each state has its own specific regulations regarding the responsibilites of dental hygenists. Therefore, the range of services performed by hygienists can, and often do vary. Some of the more basic services involved in dental hygiene careers includes taking and processing dental radiographs; removing calculus and plaque from the tooth surfaces of patients and applying cavity preventive agents such as dental pit and fissure sealants and fluorides to the teeth.

Although they may not diagnose diseases, a dental hygenist can be involved in patient screening procedures which include reviewing the patient's oral health history, assessing oral health conditions, providing oral cancer screenings, assist with dental chartings, taking a patient's blood pressure and pulse. In some instances, they may also take impressions of patients' teeth for study casts models. These models are used by the dentist to develop the treatment plan. Hygienists may also be responsible for office management activities, and in some instances, work chair side with the dentist during treatment.
A career as a dental hygienist offers a wide range of challenges. It offers flexible scheduling with a generous salary range - distinct features of the occupation. Full, part-time, evening, and weekend schedules are widely available and because dentists frequently hire hygienists to work two or three days a week, many are employed by more than one dental office. Dental hygienists held about 181,800 jobs in 20101, and because of multiple job holding, the number of jobs exceeds the number of hygienists. More than half of all dental hygienists worked part time - less than 35 hours a week.
Dental Hygienist
One of the most enjoyable aspects of a dental hygienist career is working with people. Personal fulfillment comes from providing a vital health care service, while establishing trusting relationships with patients. Hygienists use a variety of interpersonal and clinical skills to meet the oral health needs of many different patients every day. A dental hygienist career offers opportunities to help special population groups such as children, the elderly and the disabled. As a result of their education and clinical training in a highly skilled discipline, dental hygienists are respected as valued members of oral healthcare.
Dental hygienists have the opportunity to work in a wide variety of workplace settings, which may include private practices, educational and community institutions, research teams and with dental corporations. Almost all jobs for dental hygienists are in dental offices, while a very small number worked for employment services or in offices of physicians.
A person looking to pursue a career as a dental hygenist can also be employed to provide dental hygiene services for patients in hospitals, nursing homes and public health clinics. Depending upon the level of education and experience achieved, they can also apply their skills and knowledge to teaching, research, office management and business administration. Employment opportunities may also be possible with companies that market dental materials and equipment.
Dental hygenists receive their education through academic programs at community colleges, technical colleges, dental hygienist schools or universities. A minimum of two years of college education that combines classroom and clinical coursework is necessary for licensure. A formal education prepares dental hygienists to provide care to patients in such dental clinic settings as private dental offices, clinics and educational or health care institutions.
Bureau of Labor Statistics, U.S. Department of Labor, Occupational Outlook Handbook, 2012-13 Edition, Dental Hygienists, http://www.bls.gov/ooh/healthcare/dental-hygienists.htm (8/3/12).