Lab Technician Salary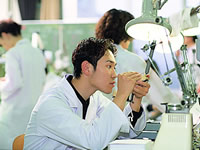 According to reports, the annual median lab technician salary was $35,140 as of May 2010.1 The middle 50 percent earned between $26,260 and $44,790. The lowest 10 percent earned less than $20,940, and the highest 10 percent earned more than $58,560. The number of jobs held by dental lab techs was 40,900.1 The two industries that employed the most dental laboratory technicians were medical equipment and supplies manufacturing and dentist offices.
Although they seldom work directly with patients, dental lab techs are an important part of dentistry. Using the impressions and soft tissue provided by dentists, they create dental appliances like dentures, fixed bridges, crowns, veneers, orthodontic appliances and splints to help straighten and protect teeth.
Because an important aspect of a technician's responsibility is to fabricate dental restorations and tooth replacements that are both esthetic and functional for everyday living, dental lab technicians work with a variety of materials: waxes, plastics, precious and non-precious alloys, stainless steel, porcelains and composites or polymer glass combinations. They also use sophisticated instruments and equipment to help them create many of the dental prostheses. Experienced technicians can find well paid positions in commercial laboratories, become department heads in larger laboratories, or potentially own their own laboratory. They can also teach dental technology courses in educational programs, and apply their knowledge to research, sales and/or marketing of prosthetic materials, instruments and equipment.
There are about 25 accredited dental technician schools in the US that provide classroom instruction in dental materials science, oral anatomy, fabrication procedures, ethics, and related subjects. Students are also given supervised practical experience in a school lab or outside dental laboratory.
The American Association of Dental Schools Application Service (AADSAS), sponsored by the American Dental Education Association (ADEA), is a centralized application service for individuals applying to dental technician programs. Through AADSAS, applicants to complete one application form that is sent to each school chosen by applicant.
Dental Lab Technician
Upon graduating, a dental technician can volunteer to become a certified by passing an examination that evaluates their technical skills and knowledge. The exam is administered by the National Board for Certification in Dental Laboratory Technology and students who pass certification become Certified Dental Technicians (CDTs). CDTs specialize in one or more of five areas: complete dentures, removable partial dentures, crowns and bridges, ceramics or orthodontic appliances.
Lab Technician Salary Source: Bureau of Labor Statistics, U.S. Department of Labor, Occupational Outlook Handbook, 2012-13 Edition, Dental Laboratory Technicians, http://www.bls.gov/ooh/production/dental-laboratory-technicians.htm (8/2/12).