Teeth Whitener Systems
<! -INFOLINKS_OFF ->
The process of aging makes a teeth whitener a must. As we age, our adult teeth tend to become darker due to changes in the mineral structure of the tooth. Adult teeth are also stained by bacterial pigments, food and tobacco products. Each day, a thin coating formulates on the tooth, picking up stains. Dental enamel also contains pores that can hold stains.
<! -INFOLINKS_ON ->
Teeth Whitener Options: Chairside, Gel and Whitening Strips Systems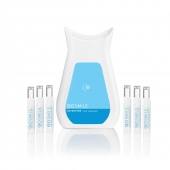 Tooth whitening procedures are the most commonly administered cosmetic dentistry procedure. The procedure lightens the teeth and helps to remove stains and discoloration. Tooth whitening is among the most popular cosmetic dental procedures because it can significantly improve the appearance of your teeth for less cost than the cost and inconvenience of other techniques. White teeth are often most associated with an attractive feature of a smile, as well as a sign of youthfulness.
A tooth whitening procedure can be either performed in a dental office or in the convenience of the home. An in-office tooth whitening procedure, often referred to as a chair side procedure, has the advantage of allowing the dentist to closely supervise both the process and the progress. If your teeth are badly discolored, a chair side bleaching is usually the best option, if you only need a minimum bleaching, then an at home method may be sufficient for you. It is important to note that a teeth whitening procedure is not single, one-time only event. The process will need to be repeated periodically in order to maintain that bright "Hollywood" smile.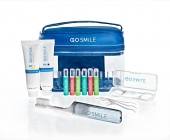 There are two main types of teeth whitening procedures: vital and non-vital tooth whitening treatments. When tooth whitening is done on a tooth that has had root-canal treatment, the process is called non-vital teeth whitening. This is because a root canal treatment involves the removal of nerve tissue from the tooth. A vital tooth whitening procedure, on the other hand, means that the procedure is being done on teeth which have live nerves. Vital whitening usually has no effect on a tooth that has undergone root canal therapy. An alternate solution would be for the dentist to use a procedure which whitens the tooth from the inside. A whitening agent is placed inside the tooth, followed by a temporary filling. The tooth will be left alone for several days until the tooth shade reaches the desired shade. Usually the process only requires one treatment visit, but the procedure can be repeated if the desired shade is not accomplished on the first attempt.
Tooth whitening procedures are performed by a majority of dentists. While many options are readily available for teeth whitening, the chair side treatment method remains the recommended choice for lightening discolored teeth. The procedure usually takes between 60 and 90 minutes following an evaluation to determine the source of the staining. Chair side bleaching allows a licensed professional to not only evaluate the best method for your individual needs, but to monitor the treatment in order to maximize the results. This type of teeth whitener procedure is also one of the more expensive tooth whitening treatment systems available today.
Chair Side Treatment
The chair side tooth whitening process begins with the initial evaluation to determine the best tooth whitening method. During the evaluation, an assessment can also be made to see if the patient needs gum lifts or a tooth reshaping procedure prior to performing the teeth whitening procedure. Once the tooth whitener method is determined, treatment is administered.
During what is usually a one hour treatment procedure, a protective gel or rubber shield is applied to the gum area for protection against chemical, then a bleaching agent is applied to the teeth. The bleaching agent consists of the use of oxidizing agents such as hydrogen peroxide or carbamide peroxide to lighten the shade of the tooth. This oxidizing agent contains a higher concentration of peroxide than over-the-counter bleachers. The oxidizing agent penetrates the crystal structure of enamel and oxidizes stain deposits. Depending on the length of time, the layer which lies beneath the enamel called dentin, will also become whitened. In some whitening procedures, the dentist will incorporate the use of a laser to enhance the bleaching potency, hence, referred to as "laser bleaching".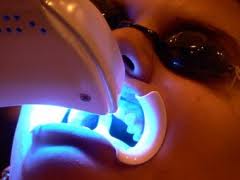 Lasers offer a high-speed alternative to conventional tooth whiter procedures. While patients tend to like the high-tech aspect of laser treatments, its use is relatively new and too expensive to justify its general use. While bleaching agents have been given the ADA Seal of Acceptance, the use of lasers in bleaching procedures has not yet received this seal. While the ADA seal is widely acknowledged by dental practitioners, it is not required for all products. Therefore, it is advisable that you speak with your dental provider for further information about the use of lasers for a whitening procedure.
Chair side whitening procedures tend to produce quick results, but chemical burns to the soft tissue areas of the mouth are on the risks which patients face. In response to this risk, some dentists begin the procedure by first painting the patient's gum areas with a light cured protective layer prior to bleaching the teeth. They may also request to see you in a few days after the procedure is performed to check the gum areas of the mouth.
The affects of a chair-side whitening process is relatively good. Most individuals can expect to maintain some level of white teeth for at least one to three years. Many individuals continue to be satisfied beyond this three year period. Similar to other dental procedures, tooth and gum sensitivity are the main side effects associated with a chair side tooth whitener procedure. Sensitivity can last for several days, but eventually subside. The higher the concentration of bleaching agent used, the more likely a person will experience this side effect.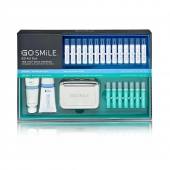 In general, all whitening treatments that are administered by a dental provider will cost more than OTC treatments. The standard cost of a chair side tooth whitener procedure ranges between $300 and $1000. To save money, you may consider whitening one arch of the mouth (usually the top) only. The top arch tends to be the most visible of the two, especially when we smile. It can also provide you with a way to compare both upper and lower areas of the mouth and decide if you want to whiten the lower area at a later date.
An alternative method to a chair side procedure involves the use of teeth whitening gel systems, generally in the form of over the counter (OTC) products. These involve either the use of a mouth guard or tooth whitening strip which contains a low concentration of the oxidizing agent. The appliance is held next to the teeth for several hours a day for a period of 5 to 14 days. While it is a somewhat slower process than an in office procedure, there are fewer risks to the soft tissue areas of the mouth. The bleaching agent contained in these types of systems is typically less than a 10% hydrogen peroxide equivalent.
White Teeth Gel Systems
There are two types of teeth gel systems: Over the Counter (OTC) and dentist supervised.
OTC Whitening Gels
OTC gel systems have seen a significant increase since its introduction in the early 2000's. The process is significantly quicker and relatively cheaper than getting the procedure done by a dentist. Similar to the chair side procedure, only the downside is that not all OTC whitening gel systems are effective on the teeth Another difficult aspect of this procedure is that the mouth guards, which are supplied with this kits, may not fit securely around the teeth and protect the gums. Some OTC teeth whitening gel kits offer to develop custom made mouth guards, but this can take about a week.
The side effects of OTC white teeth gel systems involve tooth and gum sensitivity. But, OTC systems generally contain a lower concentration of peroxide (10% maximum), than dentist administered gels, therefore the sensitivity may be less. This lower potency level may be an advantage for those who suffer from tooth sensitivity. OTC teeth whitener gel systems should not be used with a mouthwash after using, as it can diminish the teeth whitening effect. However, an oxygenating oral rich such as Therabreath or Orajel can actually be beneficial to the OTC teeth whitening gel system. Make sure to read the product label and speak to a dental practitioner for further assistance.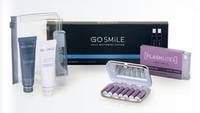 OTC white teeth gel systems usually last about 12 months, compared to 3 years for a dentist administered gel system. The price of this system can range from $10 to $100 based upon the levels of peroxide. Be certain the have a consultation before purchasing a more expensive OTC gel whitening system. It may actually be a smart move to begin with a lower level OTC system, which is more cost effective and contains minimum side effects. For extremely yellow stained teeth, more doses may be needed and an OTC teeth whitening gel system may not be a good option for white teeth. Rather, a dentist administer gel system may be the better option.
Dental Supervised Gel System
Dentist supervised gel systems combine the ease and convenience of OTC whitening gel systems, with the expertise and guidance of a licensed professional. The process usually begins with an evaluation and the processing of a custom made mouth guard. Impressions of your teeth are taken by the dentist who will make one or two custom mouth pieces to fit your mouth. This number depends upon whether or not you will have one arch or both arches of the mouth whitened.
It is important that the mouth guard fits well in order for the whitening agent to remains in contact with your teeth, so it does not irritate the gums. Patients using OTC whitening gel systems are more susceptible to gum irritation, as the systems contain pre made mouth guards which are not likely to fit all patients correctly. Once your mouth guard has been custom made by the dental practitioner, the rest of the teeth whitening process will occur in the convenience of your home.
Similar to the chair side procedure, a dental supervised gel system uses the carbamide peroxide agent to bleach the tooth enamel. Your doctor provides you with a set of plastic syringes, each containing the whitening gel material. The peroxide concentration in these gel packed syringes varies from 10% to 16% to 22%. Working with your dentist, you will decide on the level that is best suited for your situation.
Each day, or as often as designated by the dental provider, the mouth guard is filled with the whitening gel material and then worn in the mouth. Some people achieve the amount of tooth whitening they desire within a week. Others may need to utilize the system for as long as four weeks or longer. Some treatments may also consist of twice a day use for a couple of weeks, while others may recommend overnight use for one to six weeks. Whatever the time frame, it is always important to wipe away any excess gel, when applying the mouth guard, to avoid gum irritation.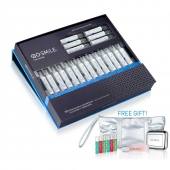 The lifespan of a dental supervised white teeth gel system can last as long as a chair side teeth whitener procedure, but it does fade with time. However, the teeth can be conveniently touched up by purchasing additional the gel from your dental provider. Discuss the tooth whitening schedule with your dentist. Also ask about other teeth whitener products that may work well for you.
While significantly less expensive than a chair side bleaching system, dental supervised white teeth gel systems can range from $200 to $500 per arch in costs. Based upon these dental fees, I would recommend that anyone looking to use a dental supervised teeth whitener system, utilize the services of a dental school. Using a dental school facility will save you a significant amount of money for white teeth. The procedure is a minimally invasive, therefore, any concerns about treatment being rendered by a student are basically subsided. Dental students are supervised by highly qualified dental practitioners, and the risk level for a dentist supervised teeth whitener gel procedure is minimal, at best.
Teeth Whitening Strips
In addition to the OTC white teeth gel systems and brush-on teeth whiteners, there are teeth whitening strips to help bleach stained teeth. Similar to the other do-it-yourself methods, teeth whitening strips are not only convenient, but they do not contain messy liquid ingredients. The disadvantage to using this type of teeth whitener product is that it can potentially cause tooth soreness and gum irritation. But, the tooth irritation is minimal and the gum irritation occurs only when the strips touch the gums, which is easier to control than when a person uses white teeth gel systems.
Teeth whitening strips are thin, flexible pieces of plastic (usually polyethylene) that have been coated on one side with a thin film of the active bleaching ingredient, hydrogen peroxide. They often come in pairs, one for the upper area of the mouth, and one for the lower area. These strips are placed on the teeth areas for at least 30 minutes twice a day. The program is designed for a period of about 14 days of use. One of the advantages of the whitening strips is their "invisible presence". They can be worn at any time. They also do not aggravate the jaw or promote gagging often associated with the use of mouth guards. But, whitening strips do not work as well as the liquid-based whitening methods.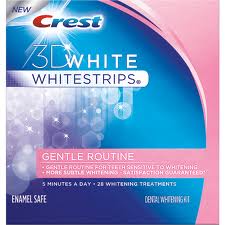 One of the problems that has been associated with teeth whitening strips is that the strips are flat and do not fully cover the curved parts near the sides of teeth. This can sometimes result in only the front area of the teeth becoming whiter, while the sides remained the original tooth color. Also, the effectiveness of whitening strips varies and it generally lasts less than gel whitening products. The average effectiveness time is somewhere between 6 months and a year. But, teeth whitening strips are known to be very inexpensive that other whitening treatments. For a cost of about $15 for a 14 day treatment, you can get noticeably whiter looking teeth. Find the more popular teeth whitening strips on this page.
Important Points About Teeth Whiteners
A teeth whitener procedure can produce dramatic improvements in the cosmetic appearance of stained teeth. However there are some stains that do not respond to the bleaching process. In this case, a prolonged tooth whitener procedure may be required in order for the whitener to reach the dentin layer. The risk of prolonged tooth whitening is white-spot decalcification. This is when areas of the tooth may also be highlighted and become more noticeable in appearance.
A teeth whitening procedure is not a permanent solution for teeth stains. They will eventually return. Teeth that are exposed to many staining opportunities will see the whiteness begin to fade, in some cases, as little as one month. If you avoid staining foods and drinks, a whitening treatment may not be needed for at least 6 to 12 months.
A tooth whitening procedure is not likely to cause serious side effects, although tooth and gum sensitivity are often the side effects reports. Tooth sensitivity and gum irritation. About half the people who undergo a tooth whitening process experience some degree of tooth sensitivity or gum irritation. If you experience discomfort, try to use a lower concentration of peroxide. The side effects usually subside in a few days, but if they persist, stop using the product and see your dentist. The peroxide may have seeped into the enamel of the tooth, causing it to touch the nerve, making the tooth sensitive.
In addition to the problems of tooth and gum sensitivity associated with bleaching procedures, the following information should also be noted:
Teeth whitener procedures may not correct all types of tooth discolorations. Teeth that contain yellow staining are usually good candidates for a tooth whitening procedure. Teeth which contain brownish hues, shades of gray or white spots will show minimal to no whitening effect.
Dental cavities will need to be treated before a teeth whitener procedure is performed. If not, the whitening agent can penetrate tooth decay, enter into the inner areas of the tooth and cause sensitivity.
Any previous dental work performed prior to a teeth whitener procedure, will show no improvement in their appearance on these particular teeth. They will need to be replaced in order to appear uniform with the rest of the areas of the mouth that will show a whiter appearance.
The teeth may undergo what is referred to as "Tooth Rebound". This is the process whereby whitened teeth begin to lose the effect and begin to darken. Following a teeth whitener procedure, tooth rebound can happen over a 30 day period.
When using do-it-yourself kits, it is advisable to have a dental consultation to determine the cause of why your teeth are discolored. This can help you determine which teeth whitener procedure is best for your situation. A professional consultation can save you time and frustration in the long run. In addition, you will be educated with some new product information, positive and negative.
A whitening procedure should not be performed if you are pregnant or nursing. The effects of the whitening materials on the development of the fetus may be dangerous to the fetus.
<! -INFOLINKS_OFF ->