Free Dental Work
<! -INFOLINKS_OFF ->
When we look at some of the ways people are receiving free dental work, we find that it will happen most often in one of the sixty-six dental schools located in such US states as Georgia, New York, Texas, California and Michigan. But, there are private dentists, in partnership with local organizations, who offer discounted and free dental care as well.
<! -INFOLINKS_ON ->
The #1 Source for Free Dental Work
Dental schools are the #1 source for finding low cost or free dental work. In this setting, you can negotiate dental fees, get a easy payment dental plan, and even participate in free examinations and research projects. Whether you need basic dental work or advanced dental care, in a specialized dental clinic setting, you can receive quality dental care for little or no cost at a US or Canadian dental school.
In most US dental school clinics, you will generally find four areas of care in the dental school setting:

Area 1:
Care is provided by a dental hygiene student who performs teeth cleaning procedures (prophys and scalings and root planning).
Area 2: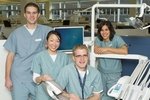 Care is provided by a dental student in a general dental clinic. Many of the students are either in their second, third, or last-year of study. Some dental schools may only allow third and fourth year students to perform dental procedures on patients in the clinics.
Area 3:
Dental work is provided in a post-graduate clinic. In this setting, procedures are performed by a dental student who has graduated, is licensed and is doing advanced study in a specialized area such as endodontics (root canals), periodontics (treatment for gum disease), implants (cosmetic dentistry) or prosthodontics (dentures, crowns).
Area 4:

Some schools allow dental work to be done by a faculty member in a clinic specifically designed for this purpose. Many dental school patients are not aware of this option - it is not normally discussed during the treatment plan consultation. It is also very rare to get free dental work or a discounted dental plan accepted in this type of setting. While the dental fees are slightly higher than the general dental school clinic, it is still lower than that of a private dentist.
Keep in mind that dental school clinics are not for everyone and have potential downsides. If you are considering treatment at a dental school, some of the ways to get free dental services and discounted procedures include research, dental grants, student exams and clinic discounts. You may also be interested in viewing free or low cost dental school events throughout the US.
BEING TREATED AT A DENTAL SCHOOL? Are you or have you ever received dental care from a student dentist? Want to share your experience with others? Write your own story and create a webpage for others to view.
<! -INFOLINKS_OFF ->