Dental Products
Free Samples, Travel Size Products and Dental Coupons
<! -INFOLINKS_OFF ->
Not ready to buy particular dental products yet? This page is for you. How many oral care items have you purchased, only to find that it was not for you? The items on this page offers a way for you to try before you buy. For as little as the cost of s&h, be the first to get some of the newest dental products on the market.
Designed with your best oral care needs in mind, many are designed as portable dental kits, designed to help you be on the go while promoting good oral health and helping you save on the costs of having a procedure done by a dentist.
Be sure to also check out the dental products store, as well as the coupons database, packed with great deals on the dental products you currently use, like the Conair WJ8 or 360c Waterpik or an amazing assortment of teeth whitening products like the gels and strips. Shop online at Drugstore.com,Target, Walmart, and hundreds of other brand name stores.
Featured Dental Products
Polish your teeth and keep them white with deliciously refreshing Touch Up® ampoules. Get a "just-brushed" feeling - anytime, anywhere. Flip, Pop, Touch Up!™

Colgate Wisp - Brush on The Go!

Don't have time to brush? Try Colgate Wisp, the single use mini-brush. Just brush and go! This soft pick gets to hard-to-reach places. Bristles gently remove food and other particles. Freshening bead dissolves in use. Discreet and portable. Powerful breath freshening. $7.99 from drugstore.com

TheraBreath's Oral Hygiene Kit is the perfect solution to making your mouth feel dental-spa fresh. This kit contains travel sizes of of popular formulas, so you can try everything out for yourself and decide which products work best for you. The included toothpaste and oral rinse come in TSA-approved sizes so you can pack the Oral Hygiene Kit in your carry-on luggage. The TheraBreath Oral Hygiene Kit includes: 1 TheraBreath toothpaste (.75 oz), 1 TheraBreath Oral Rinse (3 oz), 1 pack ZOX Mints (12 pieces), 1 pack TheraBreath Chewing gum (12 pieces), and 1 Tongue Cleaner.

One Minute Dental Care Travel Kit

This is one item that should be in every family's kit. The One Minute Dental Care Travel Kit helps with toothache, minor gum, advanced periodontal and preventive care gum problems. According to the Daily University Science News, using antibiotics for gum infection helps the whole body. The study was part of a $7.3 million project at UB, funded by the National Institute of Dental and Craniofacial Research, to plan and conduct a pilot study for a clinical trial of the impact of periodontal disease treatment on the prevention of second heart attacks. Their specially prepared OneMinute DentalCare Travel Kit comes with a personal Oral Irrigator with tips. Again, this is a portable dental kit must have!
Dental Merchants
Drugstore.com - Drugstore.com is a site that covers health, beauty, diet and wellness and oral care needs, which includes natural teeth whiteners, at discounted prices. They consistently offer free sample products with orders and provide a shopping experience thats convenient for purchasing products essential to healthy everyday living.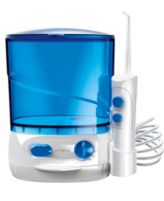 Macys - Macys.com is the online destination for today's customer products for every lifestyle. They carry gifts for all occasions, as well as dental products, and have over 14,000 products from such favorite brands as Calvin Klein, DKNY, Kenneth Cole, Ralph Lauren, Sean John, Marc Ecko, Nautica, Nike, Puma, Adidas, The North Face, Timberland, Martha Stewart, Tommy Hilfiger, Michael Kors, BCBG Max Azria, Betsey Johnson and more!
Walmart - At Walmart,you can always be assured you're getting low prices and that genuine customer service you've come to expect from Wal-Mart. You'll feel at home in any department of any store...that's the Wal-Mart culture.
Beauty.com is a leading online retailer of luxury and prestige beauty products. Consumers can shop for top beauty brands such as Frederic Fekkai, Urban Decay, and philosophy, as well as hard-to-find trend setters like ARCONA and Vincent Longo. They also offer everyday free shipping and free sample gifts with purchase promotions.
<! -INFOLINKS_OFF ->