Cosmetic Dental Makeover
<! -INFOLINKS_OFF ->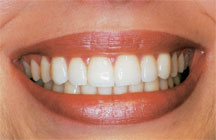 Due to an increased focus on maintaining a youthful appearance, cosmetic dental makeovers have also been on the rise. In addition to weight, skin and hair care products, focus has extended to the areas of the mouth, specifically the teeth. This is because when we smile, that is what's revealed.
<! -INFOLINKS_ON ->
Throughout the years, we have become more concerned about having straighter teeth that are free of stains, chips and other perceived imperfections. And this type of concern is only encouraged by popular television shows focusing on cosmetic dental makeovers.
Advertisements for teeth whitening products are commonly seen in magazines, newspapers and on television. You can also find a number of articles written on such topics as bleaching agents or bonding techniques. Because of this, many of us want perfectly uniform and dazzlingly white teeth, and this need has resulted in an increase in the number of cosmetic dental makeover requests made to dentists.
Many dentists have responded to this demand, offering many services such as porcelain veneers, teeth whitening, and dental bonding procedures. The cost of some of these procedures can easily exceed $1,000 per tooth. Yet, despite the cost, many people believe that a cosmetic dental makeover is just as important as buying quality clothing or spending money on maintaining healthy hair.
New Techniques in Cosmetic Dentistry
***video-cosmetic-dental-makeover-the-view.shtml***
It is important to note that while cosmetic dental makeover restorations have been performed for many years, the materials previously used tended to stain or chip and over time, changed color, limiting their use. But, recent advances in cosmetic techniques have made it possible to repair teeth without using such materials as amalgam or gold. In addition, improvement in the use of dental adhesives has allowed many cosmetic dental makeover procedures to be performed with less cutting of the tooth's enamel structure. For instance, the new composite resins (tooth-colored fillings), and porcelain veneers are stronger, long lasting and over time, resistant to color change. Just imagine - a few decades ago, people who had a minor chip on a tooth had to have a dental crown prepared. Crown preparation is not only time consuming, but can also be very expensive. While crowns are still frequently used, it's possible to now mend minor imperfections, such as chips or a fractured tooth with a composite resin that can be smoothed and color matched to the surrounding teeth.
Areas of Cosmetic Dentistry
The main areas involved in a cosmetic dentistry include:
Contour Shaping
Dental Bonding
Dental Crowns
Veneers
Inlays/Onlays
Teeth Whitening
A brief description of each procedure is outlined below. Click on the associated link for more detailed information, including its average cost.
Contour Shaping

Contour Shaping involves the process of removing parts of dental enamel to improve the appearance of the tooth. Contouring is often used to correct a very small chip. Any enamel that is removed during this process is irreplaceable.

Dental Bonding

Dental Bonding is a dental makeover process is an option used for structural and cosmetic reasons.

Dental Crowns

This type of procedure allows a single tooth to be whitened, but the cost can be expensive. In cases where the tooth is not broken or badly decayed, most dental insurance plans may not pay for this procedure.

Veneers

(Porcelain and Laminate)
A dental veneer is an ultra thin layer of material placed over a tooth surface, either to improve the cosmetic appearance of a tooth, or to protect its surface.

Dental Inlays and Onlays

Inlays and Onlays can be thought of as being a procedure that is midway between a dental filling and a dental crown. Inlays or onlays are used when there is not enough tooth structure to support a filling, yet there is also not enough damage to support a dental crown.

Teeth Whitening Systems


(Chair Side, Gels Systems, Tooth Whitening Strips)
Teeth Whitening procedures, also referred to as teeth bleaching, is the most commonly administered cosmetic dental makeover procedure. It involves a procedure that lightens the teeth and helps to remove stains and discoloration. There are basically 3 types:

Chair Side bleaching performed by a dentist. The chair side process allows a licensed professional to evaluate the best method for your needs and to monitor the treatment in order to maximize the results. Chair side bleaching is considered one of the more expensive whitening treatments available.

Gel Systems - there are two types: Over-the-Counter (OTC) and Dentist Supervised. OTC gel systems are the more economical of the two systems. A dentist administered gel system combines the convenience of the OTC, with the expertise of a dental practitioner. Both systems usually involve the use of a mouth guard and a low concentration of the oxidizing agent.

Tooth Whitening Strips - offers whitening without the mess of a liquid component. It's affordable and the tooth sensitivity effects are minimal.



If you are considering a cosmetic dental makeover, there has never been a better time to do it. Demand for cosmetic dental procedures is greater than ever, and the procedures involved are relatively easy. However, there are a few points that you should keep in mind:
A cosmetic dental makeover can be very expensive. For example, porcelain tooth veneers can average between $400 and $1,500 per tooth;

Most cosmetic procedures are not covered by conventional dental insurance plans, although you can be a discounted rate using a dental plan;

The materials used in a cosmetic dental makeover, while stronger than before, are not indestructible. There is still the possibility of cracks and chips occurring. The cement used to hold them in place may even weaken over time. You may need to repeat the procedure in 10 or 15 years, in some instances, maybe sooner;

You should be realistic about your expectations. Dentists, while considered artists or enhancers, are not magicians. They have a number of ways they can manipulate, shape and polish materials to create a beautiful smile. They cannot change the shape of the mouth, the color of your skin or your overall appearance. In order for tooth restorations to truly look natural, the restorative material must work for you. A cosmetic dental maker can improve your appearance, not completely transform it.
Computer Imaging
Dentists use many methods for repairing, restoring or otherwise changing the appearance of teeth. With the added use of computer technology, it is possible to view before and after images of your teeth prior to beginning a cosmetic dental makeover. The use of this technique is referred to as computer imaging. Many dental practitioners, especially cosmetic dentists, incorporate the use of computer imaging in their practices.
In some instances, computer imaging may not be necessary. If you want a chipped tooth filled or a space between teeth narrowed, you may be able to envision the result without a computer screen. If you are considering something more complex or involving more than one tooth, however, computer imaging can be quite helpful.
Paying for Cosmetic Dentistry
Many cosmetic dental makeover procedures are not covered by conventional dental insurance. The only exceptions may be for treatment to repair or replace a dental cavities, crowns or other restorative procedure. Dental procedures that are considered cosmetic, but may be covered by conventional dental insurance include dental crowns, porcelain laminates and composite fillings.
If you have conventional dental insurance, review your plan to determine whether or not a particular cosmetic procedure is covered. Often, with this type of plan, you will need to complete and submit a preauthorization form, prior to having any dental treatment procedure started. Failure to submit a preauthorization request could result in a denial of dental benefits.
On the other hand, if the procedure you want is not covered by your insurance, a dental plan may be a better option. A discount plan offers discounted fees on many types of cosmetic dental makeover procedures, without limitations or exclusions. A discount dental plan can also be used solely on its own or in conjuction with conventional dental insurance. In this way, you actually maximize your savings!
Another option to consider is dental financing. Due to the overwhelming number of dental makeover procedures being sought, but not being covered by dental insurance, many individuals are financing their dental treatment.
Selecting Your Cosmetic Dentist
The American Academy of Cosmetic Dentistry® (AACD), the largest international dental organization dedicated to cosmetic dentistry with over 7600 members in the US and more than 60 countries around the globe, recommends that patients interested in a cosmetic dental makeover, do the following before undergoing any dental cosmetic makeover procedure:
Review before and after photos in order to see the dentist's treatment results on other patients. This will determine if their work fits with your dental needs.

Ask for references in order to speak with other patients about the quality of work the dentist provides.

Ask about recent Continuing Education courses that the dentist has taken. Continuing Education offers dentists the opportunity to stay up-to-date with the latest cosmetic dentistry techniques.

Keep in mind that cosmetic dental makeover procedures vary in technique and cost. Before beginning treatment, consider all of the options, as most of these procedures cannot be reversed once the tooth has been properly prepared (enamel has been removed from the tooth surface).
<! -INFOLINKS_OFF ->