After Dental Surgery Care
<! -INFOLINKS_OFF ->
It is important to follow all after dental surgery care instructions provided by your dentist when you undergo dental surgery. Not following instructions can not only prolonging your recovery period, but effect your overall general health.
<! -INFOLINKS_ON ->
Following are after Dental Surgery Care recommendations for the following procedures:
Apicoectomy - after Dental Surgery Care
In addition to post care instructions regarding medications and food intake following an apicoectomy, use an ice pack on the outside of the mouth at the surgical site for at least 10 to 12 hours following the surgery. This helps to reduce bruising and swelling. Avoid brushing the area, rinsing vigorously, smoking or eating crunchy or hard foods. Do not lift your lip to examine the surgical area, because this can disrupt the blood-clot formation process and possibly loosen the stitches. Some people experience numbness for days or even weeks. While not necessarily a sign of nerve damage, let your dentist know accordingly. Generally, if all goes well, the stitches will be removed between 2 to 7 days after the procedure and any soreness and swelling should be gone by the end of the second week.
Bone Graft - after Dental Surgery Care
After dental surgery care for a bone graft involves the use of antibiotics, pain medication and an antibacterial mouthwash. Patients are advised to avoid certain foods, and instructed on how to avoid putting pressure on the area while it heals. If dentures were previously worn, they will not be able to be worn for at least a month or longer while the area heals. If natural teeth are near the dental bone graft, a provisional removable bridge or denture to protect the area may be made. A dental bone graft can take anywhere between 6 to 12 months to heal. After which, dental implants will be placed at the site area.
Orthodontic Braces - after Dental Surgery Care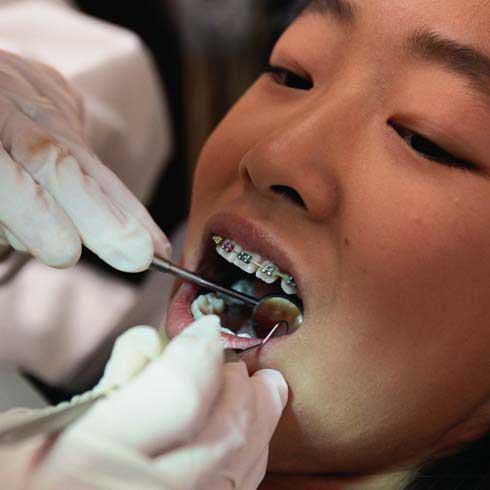 While not really considered a dental surgery procedure, the amount of time and money invested in orthodontic braces, is well worth mentioning on this page.
You may experience pain when braces are initially installed and find eating difficult. While not uncommon after dental surgery care involves eating soft foods. Some individuals may experience allergic reactions from the latex rubber or metal used in the braces, mouth sores and/or white spot lesions. In cases of allergies, latex-free elastics and alternative metals should be discussed with your dentist during your consultation. Mouth sores can sometimes develop due to irritation from components of the braces. Oral rinses, dental wax, dental silicone, and other products designed to help may be prescribed. White spot lesions often result due to the design of braces, which makes it very difficult to brush and floss the teeth to remove plaque. White spot lesion are the acids which dissolve away the mineral content of the tooth's enamel, thereby changing the appearance of enamel to an opaque whitish color. When dental plaque accumulates around a person's braces, white spot lesions will form on the tooth area that is around the orthodontic brackets. The enamel that is underneath the orthodontic bracket is protected from plaque formation. So when the braces are removed, a white spot lesion outlining the original position of the orthodontic bracket is noticeable, effecting the appearance of the tooth. This results in additional dental work needing to be done.
It is highly recommended that after dental surgery care include the use of a mouth guard when playing physical sports. Also, limit the use starch and sugar to decrease the chances of tooth decay. Patients should avoid sticky, chewy and hard foods, which can bend the wires, loosen the bands and/or break the brackets and follow a good oral hygiene program. Use a travel toothbrush to brush after meals. An interdental brush can be used to fit between the wire and the tooth to remove hard-to-reach plaque and food debris. Oral irrigators can also be used in place of brushing and flossing. When cleaning your teeth, also clean around the braces.
In the course of treatment, orthodontic brackets may pop off due to the forces involved or to the cement weakening over time. Refer to handling a dentist emergency. Contact your orthodontist immediately in order to have the bracket replaced.